Extended Showing at Sticks Framing
Sept 2020
Due to popular request and COVID-19, 5 works from my solo show will remain on view at the gallery through September 30th, 2020. They are: "H is for ...", "Continental Divide", "Breakfast at Tiffany's", "Blast", and "South by SouthEast".
Because of COVID-19, Sticks Framing will be open by appointment only. Please call Sticks Framing to schedule an appointment: 510-526-6603
Sticks Framing
1579 Solano Avenue, Berkeley, CA 94707
www.SticksFraming.com
De Young Open Exhibit
August 2020
When art therapist Evri Kwong got the call that not one, but two of his drawings would be on display at the de Young Museum as part of a new open-submission exhibition, he was elated.
"I'm thrilled to show at the de Young. I'm bouncing off the walls," Kwong says.  "It's important people respond to the world with art, especially now that it's such a critical time for our nation."
Kwong's "America, Land of the Free and Home of the Brave" and "This Land Is Your Land, This Land Is My Land" are both emblematic of current events. The first drawing depicts extremely topical subjects — climate change, protests at Standing Rock, the suppression of voting rights — and juxtaposes them against symbols of American culture, like ice cream and hot dogs. The second compares contemporary images of children in cages at the U.S.-Mexico border with depictions of American internment camps that imprisoned Japanese Americans in the 1940s.
Read full article
Kind Words by Jane Norling
June 2020
These paintings truly express the time we're in, Eileen. They hit at the pit of the stomach. Imaginitive abstraction of components of when you just dont know. They're a visual treat, and as such, are comfortable to gaze at.
I saw that when I first caught a glimpse on my phone. Then I went immediatly to intent ("What's Eileen saying here?"), and at the same moment I was struck by a novel design I'd not seen from you or anybody.
The imagery went deep into my body and consciousness - like most things these days. The crashing angles attended by odd curves. I suppose "components" is a collective word for these times, focused on COVID and its impact. I mean the work is disturbingly powerful - a good thing! A beautiful struggle to put things together when they are so disparate. I applaud you for soaring through with your art-making, your new, current, art.
Castle
March 2020
From mid-February to mid-March I had the opportunity to showcase 30 of my paintings at a newly renovated house which looks like a castle in Berkeley, CA. More than 700 people came to see the house and the works of 10 local artists, including me. The house sold and I got very good feedback on my paintings.
In selecting this piece at the Falkirk Cultural Center 2018 Spring Open Juried Art Exhibition, Waterfall No. 2, for a 2nd Place Award, the Juror, Lyn Sondag, Assoc. Prof. at Dominican University, said:
"This piece features a complex use of media, a highly skilled demonstration of technique and an excellent use of color and variety."
I Wonder
Opening Reception: Thursday, May 4, 6-9pm.
The art of Eileen Starr Moderbacher does not sit still. Throughout her years of creating, she has allowed her work to grow; progressing through mediums, subjects and scale as her artistic vision necessitates.
Many of Eileen's newest works are larger in scale, better enabling her to capture the sensuality found in the forms of nature, the viscosity of flowing water and the ever present cadence of pattern. By working on paper, the pieces in "I Wonder" take on a tactile immediacy that is only enhanced by her liberal use of sumptuous and revitalizing hues.
Stage III - Percolation
Opening Reception: Thursday, December 8, 5:30-8pm.
Percolation is about the movement and replenishment of water / water sources, purification, renewal, change and solutions to water issues.
Stage II - Water and the Sounding Sirens
Opening Reception: Friday, October 7, 5:30-8pm.
Water has the power to both give life and swiftly fully destroy. But today our own misuse of it may be our greatest peril. The current water crisis can be likened to the mythology of the sirens, beautiful creatures who lured sailors to their demise by their mesmerizing song. Today's proponents of water privatization are being lured by the sweet sound of money and power. Only later will they find it will leave us all shipwrecked. This exhibition will explore water as a basic human right.
Having fun with friends at the reception for the show Hardly Strictly Abstract. On display at McGuire Real Estate from November 2016 - May 2017.
Stage I - Birthing from Water
Birthing from Water is the first stage of an extended, three-part exhibition project focused on WATER, examining its nature, the water crisis and sustainable solutions for the future. The exhibition is a collaboration with Sherwood Gallery in San Francisco, owned by Sherwood Design Engineers. Founder Bry Sarte will soon be launching a new book outlining recommendations for sustainable water usage to aid decision-making for the United Nations.
Birthing from Water is dedicated to exploring the essence, beauty and elemental nature of water, as well as its role in the creation of life and civilization. The artwork of this stage will serve as a springboard and inspiration for Sherwood's sustainable development team as well as the exhibition's subsequent stages.
SebArts "Watermedia Exhibition"
January 2016
The SFWA Show "COLOR"
January 2016
"The vibrant, wild colors achieved in Moderbacher's watercolor is also impressive. Whether viewed from a distance or up close, it shouts out fabulous color."
– Shelley Barry, SLATE Art
Mission Village Voice Cover Image & Article
Cover image and article in the March 2015 issue of the Mission Village Voice.

view article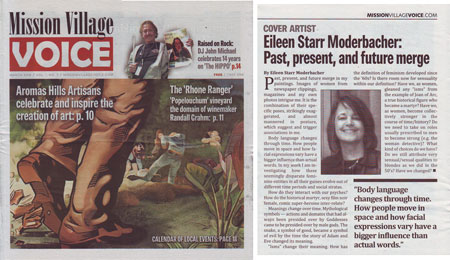 Panta Rhei, everything flows
May-June, 2014
ArtZone 461 Gallery, May 11 - June 9, 2014
"I really truly love your work, and I know others do as well, your use of color, the ethereal quality to your work, it's magic truly."
-- Kristen Foster, May 20, 2014
"Eileen Starr Moderbacher has great color scapes with symbols and maybe archetypes as well. Soothing colors and interesting movement. Nice blend of abstraction and color play."
-- RWM
www.ArtBusiness.com
"So, here is a riddle for you: What do you get when you combine the Tropics, the Polar regions and the Pony Express? You guess it - the art of Eileen Starr Moderbacher."
-- Alan Bamberger
www.ArtBusiness.com
Oakland Artist Woody Johnson admits he was ignorant.
"I was fooled into thinking the U.S. was so free and that banning books was something ... dictatorial nations did," he writes. "Until I saw the list."
That list inspired the exhibit Banned & Recovered: Artists Intervention, opening at the National Steinbeck Center Aug. 3 during the First Friday Artwalk. The list of banned books is stunning: The Great Gatsby, The Lord of the Flies, Animal Farm, Invisible Man, Beloved, Gone with the Wind, The Call of the Wild, The Jungle, To Kill a Mockingbird, Harry Potter, The Diary of Anne Frank. Henry Miller is on there, for sure, as are three of Ernest Hemingway's and two books from John Steinbeck - The Grapes of Wrath and Of Mice and Men.
And that's only a few that appear on the banned list from the Radcliffe Publishing Course Top 100 Novels of the 20th Century. According to Envoy Exhibits, which packaged, sold and toured Banned & Recovered, "4,312 books were challenged in the past decade." The curator, Hanna Regev, a member of the First Amendment Project, says that since the American Library Association started cataloguing cases, there have been 8,000 attempts to ban books. It used to be ideologically motivated.
"Now," says Regev, "it's dictated by [a] marketing, capitalistic drive at the expense of the democratic values that are the foundation of this country."
The attempts to ban books come from school boards, religious groups, citizens, for reasons that span "profanity," "sexual references" and "troubling ideas about race relations" (for Alice Walker's The Color Purple), to books that counter religious teachings - or proposed legislation. In Alabama, a proposed law would have banned books that "promote homosexuality as an acceptable lifestyle."
"As you look at why they were banned," Regev says, "you'll see some reasons are really absurd."
Thirty years ago the ALA started Banned Books Week, now celebrated in defiance by libraries, bookstores and schools across the country from Sept. 30-Oct. 6. The Monterey County Free Libraries, for its part, procured a Cal Arts Humanities grant to bring Banned & Recovered to the Steinbeck Center for six weeks.
The exhibition is divided into four parts: Banning Books and the First Amendment at a Crossfire; Race, Gender and Justice; Literary Works on Trial; and Burning Books: The Extreme Ban. It comprises 37 works of art by contemporary artists, each addressing a book or set of books from the list.
They take the shape of "Caged Bird" by Johnson, referencing I Know Why the Caged Bird Sings. His piece is a wooden box with a diorama inside of a wooden birdhouse, a replica of a songbird perched on it, a tiara above the bird, and blocks of wood with stickers that read "Vote" and "to get all free." A barbecue grate over it turns those slogans of freedom into feeble jokes and the boxed "home" into a prison.
Banned & Recovered opens with a panel talk with Regev the curator and four artists - Noah Wilson, Enrique Chagoya, Kara Maria and Jose Ramon-Lerma - and a local retired teacher, Jerry S. Smith, followed by a walk-through of the exhibit. But it's been hanging in the Steinbeck Center's Gavilan Gallery space for at least a week.
One early patron with a trained eye saw the spirit and design of American assemblage artist and sculptor Joseph Cornell in many of the pieces, and noted the Jose Ramon-Lerma work called "Grapes of Wrath." It's a found-object sort of memory box made of aged wood planks, and black-and-white photos and objects from the Depression.
"I remember in the late '30s the Okies arriving in the Hollister Valley, looking for work," the artist statement reads. Not only has Ramon-Lerma, 83, been making art for six increasingly higher profile decades and been an important artist in the San Francisco School of Abstract Expressionists, but his uncle was interviewed by Steinbeck for The Grapes of Wrath. The artist will be at the opening.
Photographer Clinton Fein, a South African-turned-American, was part of a political exhibit in Monterey's Anton Gallery four years ago; here he provides a film which cycles through photos of black youth in South Africa and his own white privileged upbringing, scored by Pink Floyd's "The Wall II." Enrique Chagoya was part of the Monterey Museum of Art's Cultural Collisions exhibit, referencing Andy Warhol's soup cans, but with a bitter-funny political anger.
This Friday also marks the closing of the Filipino Voices exhibition with the curators giving a talk before the show goes on the road. There's also the soft opening of an impressive exhibition of the paintings by children's book author and illustrator Belle Yang and her father Joseph Yang; both will be present during First Friday. It's a powerful Salinas Friday that celebrates freedom in its most creative forms.
BANNED & RECOVERED: ARTISTS INTERVENTION opens 5-8pm Friday, Aug. 3, with a panel discussion and walk-through at 6:30pm, at National Steinbeck Center, 1 Main St., Salinas. Free. 775-4722, www.steinbeck.org, www.bannedandrecovered.org
Open Studio Preview
June 2011
Born in Chicago, becoming a career woman in the sixties, and achieving success as a graphic designer in places as far reaching as Austria, Eileen's art has always reflected the tone of the most current chapter in her storied life.
A while ago, Eileen and her husband were victims of awful real estate fraud, a situation which had a massive impact on their lives. Although they are now slowly recovering, Eileen's work, as always, reflects her journey.
It is interesting to note that nowhere in these works is there a horizon line, an absence surely telling of the lack of stability in Eileen's life at the time.
"This series came out of a period of financial struggle and transient living quarters. In making these works, I noticed I was particularly comforted by the white spaces around the objects, almost as if the white spaces were where I could curl up and feel safe, like feeling I was home."
Through her art, Eileen was able to find a nurturing home environment ... even though it was only on paper.
Eileen Starr Moderbacher - New Small Paintings
UN-TITLED - a Group Show of Gallery Artists (review by GetBizi.com)
Intimate, is the word I would use to describe Eileen Starr Moderbacher's show "New Small Paintings." Entering the Side Gallery, the first thing I notice are images of cacti on the wall opposite the door. And because the paintings are 8"x6" in size, I am compelled to walk across the room to view each piece. Beyond the visually uncomfortable prickliness of the cacti, I am drawn in by the tiny colorful manmade article in each painting ... a pink handbag in one, a two-headed doll in the next (one in a yellow and the other in a sky blue dress), and a couple of toy ducks in another. Are these captured moments of painful childhood memories?
I have a brief discussion with the artist, Eileen Starr Moderbacher, and she tells me the cacti do represent some challenging recent experiences she endured. The articles in each painting do come from memories and a few from not-so-long-ago memories, but the interpretation is best left up to the viewers as they will draw on their own life experiences to give the art personal and intimate meaning.
UN-TITLED - a Group Show of Gallery Artists (review by RWM)
Nice group show of the artists we have been seeing at ArtZone 461 since their inception. One will find an impressive collection of art in a variety of mediums selected from the artworks of their regulars. A sculpture of a pointing hand announce that one has found the spot. There are also portraits, abstractions, landscapes, and sculpture.
Of special note is the new exhibit of Eileen Starr Moderbacher - small paintings of the desert flora. Among the cactus, if one looks closely, one will discover the human artifacts left behind. One need be aware of the needles and of nature in general. We as viewers and artists have been there.
Reading the narrative "explanation" of your work, I found the "explanations" as fascinating and ultimately just as mysterious as the work itself. (Word person that I am.) But can words ever really solve the riddle of of a painting? If your paintings depict scenes that are neither real nor dream, is that place the realm of pure imagination? And what does that say about the power of imagination to make us feel more alive and more free, to offer a counterpoint to the ho-hum of our daily humdrum, the slow stagnation and routine of which is really a living death? We just gotta use the tools that inspire us, so YEAH for ART! - Paula Wagner
Pre industrial revolution is before the 19th century. Eileen you work very well and keep up the good work.
Comment by Philip - September 16, 2009
Very interesting work. The top painting makes me think it's a murder scene or plane crash and the ghosts of the victims, bottom left, have returned. Many other paintings and drawings at her site show a progression of style changes. I like her painting style and technique.
Comment by dmgo - September 16, 2009
reminds me of the depression/holocast.
Comment by Cat - September 16, 2009
when I see this top painting, I see ghosts of the past, looking on shocked at the state of the world they work so hard for. They look scared to me, she is holding him back, but he looks alarmed! that tells me he feels an urgency to act. but there is a group of disinterested humans standing there in work clothes. this tells me, she is wary of the threat of humans that would stand around while such a tragedy happens. look @ her hair, it is a style from early America, it is PRE Industrial revolution.
I see this painting as being INspired which means it comes from truth, and the artist is tool of the spirit of truth that moves him, because it is truth, the Honor goes to the creator of truth, this artist is a conveyor of truth truth his natural gifts endowed to him by his creator, beautiful example of Inspiration combined with conscious action, I applaud your social consciousness, and your talent.
Peace, and enjoy fully discovering your own work, thats your GOD working through you.
Comment by Dawn - September 16, 2009
Could have been the cover of Harpers Magazine in the 20's. A war scene, a rocket ship crash site? A group of medical personal circa 1920. And everything is just beyound easy grasp, beyound easy understanding.
The lower image, cat women bound, distorted with Greta Garbo look alike looking away from the carnage and flames. The artist has nailed his objective, disharmony and chaos of the social order.
Comment by Jim Gibbons - September 16, 2009
This is an interesting idea for creating.
Comment by Casey Shannon - September 16, 2009
September 10, 2008
"Eileen's work is the first thing a visitor would notice when they come to the top of the stairs and is obviously placed there to help set the tone.
Congratulations! Looks like they gave you pride-of-place. You're the first thing anyone will notice when they arrive at the top of the stairs.
Once again you use disparate techniques effectively. I liked the contrast between the lower lush Modigliani-ish reclining nudes and the precise silver paint (is that what you used?) in the top portion. I even got a laugh out of your copy (the verb thrust used right off the bat). Also got a chuckle looking at the silhouettes when I finally noticed the anti-silhouette cocks in various relationships to vertical. It all seemed very much in the spirit of the book as you described it in your copy.
It's probably been 40 years since I read Fanny Hill and I remember nothing about it. Why was the sadist/masochist separate from the others and only partially silhouette? Incomplete as a person? Incomplete as a lover? A judgment against S&M? (The latter not very PC in an anti-censorship exhibit but it could be a sort of reverse "in" joke.) And why did you choose the portions of him to blacken that you did. (Am I turning this into Pilgrims Progress? I guess everything doesn't have to have a reason.)"
- Timothy Will
ESM at Mission 17
Artweek; April 2008, Volume 39
Eileen Starr Moderbacher begins her paintings with collage, in theory if not actually in practice and the finished works testify to the diversity of her sources; they reference dozens of different styles, from comics to vintage film, punk, pop, noir and sci-fi, with characters that seem to come from all eras, medieval to contemporary, rock art to pulp art. They ride horses and they ride motorcycles. A mysterious trench-coated woman seems to be the protagonist (the eponymous "danger girl"?), although she doesn't appear in every work, and she looks different every time, sometimes straight out of the Victoria's Secret catalog, sometimes straight out of a classic movie. The three final works in the show are composed in such a way that they zoom in on the same woman in the same Humphrey Bogart pose, but she is subtly individualized in each piece, mutating from Lauren Bacall to Veronica Lake. In other paintings the woman is Ingrid Bergman as Joan of Arc. The common denominator among most of the works is a warehouse-type urban setting, full of huge truck tires, junked cars, trash and industrial rubble.
In particular, the cartoonish elements, like the distorted Catwoman type in Even Darkness Has Its Own Kind of Light or Like the Transparent Path of a Bullet, pop out with a kind of lurid, dissonant glare. This is especially true when Moderbacher overlays them onto one of her rare pastoral landscapes, as with the giant legs and shoes dominating the foreground of Myth of Heroism. But "lurid" is hardly a bad thing. On the contrary, the paintings that contain these elements have an insistence that dominates the room and forces us to give them, ironically, an almost mythological reading. As in much ancient myth, the narrative is complex and the characters' motivations impossible to discern without any back-story. Yet, regardless, they are impressive and larger than life, with massive bodies and imposing stares. Catwoman's thighs could rival those of Hercules, and her strident gaze could intimidate the warrior Athena.
Moderbacher's work of a year or so ago, interestingly contained very few figures and focused mostly on landscape. But that landscape was a similar sort of hybrid as the one in these new works, juxtaposing trash and grass, the industrial and the bucolic, indicating the recent presence of humans even if none are visible in the picture. It was also a hybrid of painterly styles, and these new recent works are even more daring in that respect, with their juxtapositions of feathery impressionistic with starkly futuristic brushwork, total flatness with textural depth. The artist's decision to introduce comic-style characters to such dissonant effect point to a deliberately democratic urge - the fervent desire to confront us forcibly with the coming together of what are traditionally regarded as high and low art forms. The dissonance echoes the violence of much of her subject matter and it points, with comic-book melodrama, to how much is at stake for her in these various confrontations between the artwork and the viewer, and among the many artistic styles contained in each work.
- Lindsey Westbrook (contributing editor to Artweek.)
SF Bay Guardian Picks
Jan 30, 2008
Danger Girl Show
"Eileen Starr Moderbacher's paintings gleam like cels from a Japanese anime film. Catsuited superheroes slink up beside shackled lunatics as old tires rot near gnarled trees, leaving you unsure whether the actors are the stars of the bleak, soft-focused world around them or just casualties. Wielding realism with a pulp aesthetic, Moderbacher challenges viewers "to reconsider what aspects of life are real," posing the question with unsettling scenes from an R-rated cartoon that are a feast for the narrative imagination as well as the eye."
- Dina Maccabee

Eileen's Artist's Talk
Pro Arts Gallery, 2007

Campbell Gallery Reception
April 14, 2007
ShotgunReview
Dec 16, 2006
"There were also a number of strong works, including ... Eileen Starr Moderbacher's painting of an unpopulated residential street with a tidy home with a topiary 'Joy' on the front lawn juxtaposed with a pile of litter on the opposite corner, a sight I have seen quite often in neighborhoods developers and city planners call 'transitional'."
- Sarah Lockhart
Jan 16, 2006
ESM's work is often a constant jarring pairing of contrasts. She combines opposites, sharp and soft focus, plants and people, finished (?) and unfinished drawings in one piece. What is most unsettling is the juxtaposition of content. Passionate lovers take backstage to soft plants. Domestic bliss side by side with soldiers and guns. Home is surrounded by war and guns and garbage. One wonders what aspects of life the artist feels are real - the threats, the struggle or the private moments.
Situation Atrophy, [..] again feels eerie. [ESM] is demonstrating increasing strength in her characters. Although some of the characters may be part of the atrophy, or succumbing to the atrophy the woman in yellow pops off the canvas with a strength that will rise above and endure.
For me Richochet was the most compelling. In Richochet the main subject is pulling/hanging onto tree roots with all his strength (for dear life?). Two representatives of the younger generation (children?) are barely visible (fading away? staying attached?) ...connected to what he is pulling. The images provoke thoughts of roots, attachments, home, connection. All in all a powerful piece.
- Rosalyn Tenenbaum
SFGate.com
Jan 7, 2006
"The new year seems like a fine time to come clean, Mission 17's 'Truth and Lies' thoughtful group show suggests some worthwhile places to start."
- Alison Bing (special to SF Gate)
Pacific Sun
Dec 21, 2004
"When Eileen Moderbacher received word that her paintings had been chosen by the Mill Valley Arts Commission for exhibition at the community center, censorship was not at the front of her mind. That changed after a handful of complaints were lodged regarding a particular series of paintings and the works in question were promptly removed without warning.
Moderbacher responded by re-hanging the paintings - which depicted fully clothed bodies lying in roads - with large coverings labeled "censored", Numerous patrons have since expressed indignation at this seemingly blatant case of censorship, calling for reinstatement of the entire series. Ironically, it would seem that the efforts of the offended complainants have served only to stir up increased attention for the exhibition and its artist.
- Jacob Shafer
Artweek
Oct 20, 2004
"Moderbacher's Road Trip tells an eerie tale of a gloomy road scene, where each painted panel shows the same curving freeway with the same receding trailer truck in the background. In the foreground of each panel, however, bodies form the landscape, progressively more realized, in the first panels sketchy and outlined, until in the last panel they are fully depicted, piled on both sides of the roadway. This is a ghost tale of spirits left behind, disposed to remain in some traveler's dark purgatory. These panels are so beautifully painted, however, that their cumulative emotioinal impact, though ominous and gloomy, is somehow peaceful, inevitable and predestined."
- Frank Cebulski